QuickBooks Accounting Software
QuickBooks Online (QBO) is the state-of-the-art software product developed by Intuit to elevate their accounting software into the cloud. QuickBooks holistic business approach is to provide all small-medium entities affordable and yet powerful accounting tools that can be accessed anywhere online, includes using mobile devices. Unlike any computer-based accounting software which has a high initial setup cost in the asset, QBO has monthly subscription plans ranged from $20 to $40 for users to choose according to their accounting needs. QuickBooks Online offers 30 days free trial or 50% off for 1st 6 months. As a QBO Proadvisor, we offer the latter with free initial book configuration if customers subscribe QBO through us.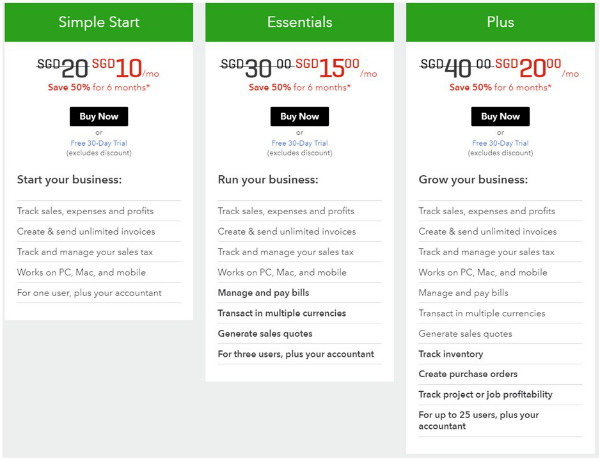 Why do customers want to subscribe QuickBooks Online through us?
We help our customers to set up their accounting book fast and reduce their learning curve in using the QuickBooks Online. Initial accounting book set up in the accounting software is extremely curial. Some customers may face challenges in using the accounting software or working on the accounting book. If the book is not set up properly or cannot be reconciled in a later month, book owner might have to seek accounting firms for remedy. That remedy fee is expensive from other accounting firms, but not for our QBO subscribers if they get our support. We offer affordable cloud accounting services to help our customers to save cost in undesired remedy fee.
What should customers do if they want to subscribe QBO through us?
If customers are in the 30 days trial, we suggest that they quit it and buy QBO from us to enjoy the 50% off for the 1st 6 months. Nonetheless, it is important for customers to select the correct monthly subscription plan that suits their accounting needs instead of the cheapest plan. Here are some important notes for the monthly plans if the customer is to sign up with us. We will be the accountant user for any plans, and this is how we support our customers in setting up QBO, the software training and handling their request in utilizing the software.
Simple Start plan
is only good for one-man operation. As there is only 1 user, which is the master administrator of the book, hence there is no way to delegate nor outsource much accounting chores. For security reason, please do not share your user ID and password with another bookkeeper, accountant or anyone. QBO is also powerful to track on who did what to the accounting book, but not with users that shared the same user ID. You may upgrade to the higher plan for more users. This plan is for a sole-proprietor, who provides services only, with no inventory control of goods nor dealing with multiple currencies.
Essentials plan
is good for 3 users including the master administrator. With user access control, some bookkeeping chores can be delegated or outsourced to someone who is good at it or simply save time to do other important work. It is also easy to allow view access only to 3rd party auditor. Multiple currencies entries are available. The user can also generate sales quotes or estimates to their customer through QBO. As sales quotes may convert to invoices and then account receivable, all these are tracked within QBO instead of going back and forth with another system. This plan is for partnerships or private company, who provides services only, with no inventory control of goods.
Plus plan
is good for 25 users including the master administrator. With user access control, most accounting chores can be delegated or outsourced to someone with roles and responsibilities. Including those features in the other plans, the user can also track inventory, income, and expenses for multiple locations, create budgets or project to estimate future earnings and costs. This plan is for partnerships or private company, who provides goods and services, with inventory control of goods and tracking multiple location projects and profits; example like restaurant outlet sales, sales promotion project and etc.
* Disclaimer – The above QBO pricing and offer may change without any notice. Please refer to us for the latest information.
Please fill up the following form in order for us to assist you.